Learn How to Ask Angels for Guidance with Guest Jean Slatter
Written by Donna Abreu
The Power of Intuition and Asking Your Angels
In this episode of Simply Living Wellness, Donna Abreu interviews guest, Jean Slatter, about how you can ask angels, or hire the angelic realm, hence her landmark book, Hiring the Heavens, by simply asking angels for assistance and guidance to help you in literally ANY aspect of your life.
Whether it be finding a parking spot exactly where you need it, or getting help in your business or job, or finding a lost item, or finding the perfect outfit at the mall for the perfect price in just a few minutes, then this is the episode for you. The Heavens are here to assist us all, we just need to ask. Jean talks about how to ask for help, and why it works. It's fascinating! And you're in for a real treat!
Jean's entire life story set the stage for going on to write her book, Hiring the Heavens. She tells her story of how she was under the belief, that God, or the Universe, was at arms length, and not available to us unless we had an absolute worthy cause to pray for. We could pray for someone else, or for world Peace, or for ourselves IF our situation was severe and desperate enough, but to pray for a great parking spot? Never!
Well actually, that thinking was all wrong, so it turns out. We can ask for selfish assistance… ALL day long in fact!
Jean shares her tory of that pivotal moment in her life when she came to the realization that you could ask angels for assistance with absolutely anything, no matter how big or small! Just what IF, this higher power wants to be involved in our everyday life, and that they want to put a smile on our faces, because it lights them up?
Listen to Jean describe:
The pivotal moment when she realized that God is within us
An absolute, crazy coincidence that could only be described as guidance from a higher realm
How she came to know that we could ask angels for absolutely any assistance, big or small, worthy, or completely selfish
How she hired an entire committee to run her naturopathic business
The team of writers, publishers, editors, and assistants who helped to write Hiring the Heavens
Jean went on to hire a:
Spiritual Mechanic
Spiritual Knock-Your-Socks-Off Party Organizer
Spiritual Hair Dresser
Attitude Adjuster for her kids during long road trips
Jean answers the begging question, What happens if you ask for something and you don't get it?
She also talks about HOW we are to ask angels, and about the "rules" around Hiring The Heavens.
You'll be surprised to hear her answers!
More About Jean Slatter, Educator, Coach, Author, Mother & Husband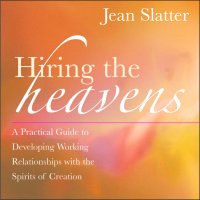 Jean Slatter is the founder of the Creative Mystic Intuitive and the Higher Guidance Life Coach certification programs. She is an inspirational speaker and the author of the hugely successful book, Hiring the Heavens.
Jean's programs and materials teach down-to-earth, easy techniques for receiving rock-solid intuition that can be trusted for the quickest, most accurate and relevant insights concerning life's Treasure Hunt journey.
She began her journey with over 20 years of experience as a natural health practitioner and a Higher Guidance Life Coach. Jean is a certified traditional Naturopath, a Reiki Master and an active dowser since 1990.
Jean's materials have been featured in noted publications such as First for Women magazine, Science of Mind, New Age Journal and Conscious Living Magazine. Jean was a featured presenter for the Conscious Media Network and GaiamTV.
To learn more about Jean Slatter, please visit www.CreativeMystic.com, and while you they be sure to download her many free gifts including lessons on how to access your own higher guidance, a mini-course on pendulum dowsing, and even the first three chapters of Hiring the Heavens for free!
GET STARTED WITH OUR FREE RESOURCES
JOURNAL PAGES
DOWSING TODAY VIDEOS
THE CREATIVE MYSTIC MINUTE